Local Coronavirus Alert Level
As of Saturday 17th October 2020, the Government has stated Lancashire is in 'Tier 3' which means we are a VERY HIGH risk area for COVID-19.
You can find out more on coronavirus guidance & the restrictions here.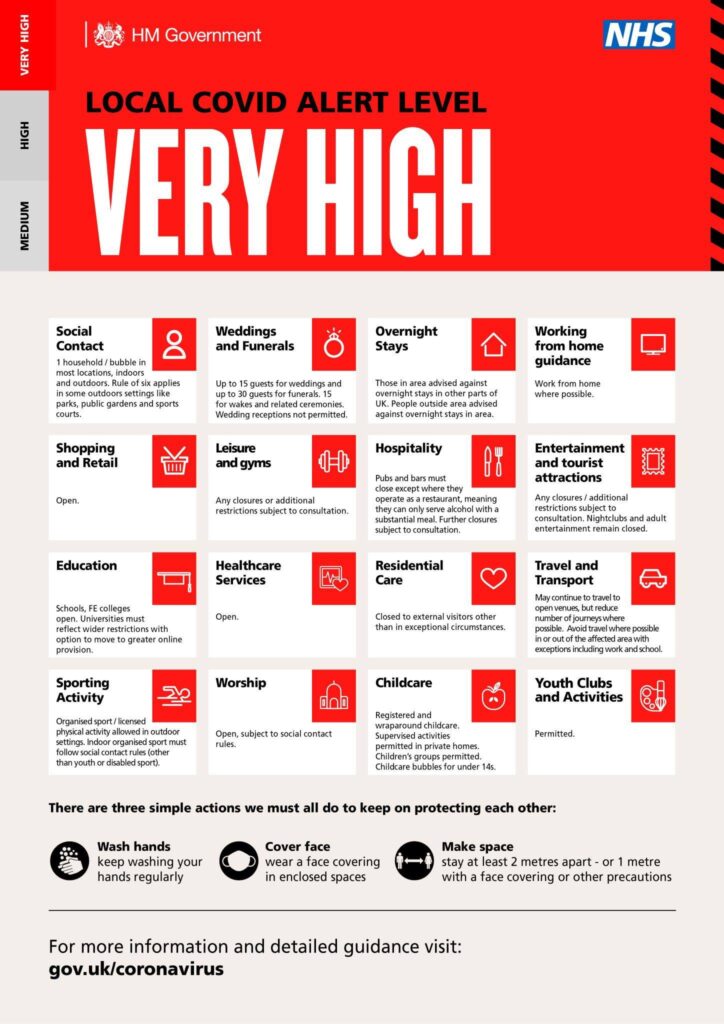 Coronavirus Testing Sites in Burnley
The community testing station on Centenary Way (opposite the bus station) is now a permanent NHS-run testing station. This is operating appointments to people who have been showing symptoms.
Their will be a new testing station on King Street car park (next to the crown court, off Queen's Lancashire Way from Wednesday 21st to Saturday 24th October.
In the interim people can still be tested at the mobile testing station at Turf Moor football ground. This is by appointment only, booking either online at www.gov.uk/get-coronavirus-test or by phoning 119. The Turf Moor testing station will not be operating from Saturday 24th to Tuesday 27th October and will continue its services on the 28th until 31st October.
Symptoms of Coronavirus
 a high temperature – this means you feel hot to touch on your chest or back (you do not need to measure your temperature)
a new, continuous cough – this means coughing a lot for more than an hour, or 3 or more coughing episodes in 24 hours (if you usually have a cough, it may be worse than usual)
a loss or change to your sense of smell or taste – this means you've noticed you cannot smell or taste anything, or things smell or taste different to normal
How to book a Coronavirus test
You can book a free test by:
When & How you will get your results
If you have had a test at a test site, it can take up to 48 hours to get your result. It may take up to 72 hours for a home test. You'll get an email, text or call from the NHS Test and Trace service.
If you have any concerns about how long it is taking, please email VTNTesting@lancashire.gov.uk
If your symptoms worsen then please contact your GP or call the NHS on 111 and if it is an emergency call 999
Test and Trace Self Isolation Payments and how to apply
Burnley residents on low incomes who need to self-isolate and are unable to work from home can now apply for the Government's self-isolation payment scheme, worth £500. To learn more about the eligibility criteria, and to apply for the payment, please visit the following site:
Apply for a Self-Isolation Payment
NOTE: The Government also introduced new fines for those breaching self-isolation rules will start at £1,000 – bringing this in line with the penalty for breaking quarantine after international travel – but could increase to up to £10,000 for repeat offences